International Baccalaureate
Biography:
Topic: AccreditationInternational Baccalaureate
Title: Understanding Leadership (For Aspiring Leaders)
Leadership is a social construct, positioned in time and place and influenced by personality. This workshop aims to expose, test, and critique the assumptions upon which each participant's own style, definition and understanding of leadership are based. Leadership theory and current research will form the basis for discussion with case studies and the participants' own experiences being used to explore leadership, cross-cultural investigations and the impact of culture on leadership styles and practices. There will be an emphasis on the complex, contextual and holistic nature of leadership, and participants will build deeper understandings of how to adapt their leadership style in different contexts. The workshop will include an introduction to the capabilities and intelligences, core themes and leadership processes that are considered to be most supportive of effective leadership in a range of IB contexts. In line with IB philosophy, participants will be encouraged to develop an investigative mindset, become more inquiry-based and reflective practitioners while modeling life-long learning. Action research will be introduced, helping candidates identify major issues that leaders may face, while planning possible responses that reflect an awareness of local context. Participants will develop and articulate a deeper understanding of their own philosophy, and draft a personal philosophy statement that can then be evaluated as to relevance and effectiveness with reference to daily practice in IB World Schools, through using a reflective journal or blog.

James Delisle
Biography:
Dr. Jim Delisle has taught gifted children for 39 years. Jim retired from Kent State University in 2008 after 25 years of service as a Distinguished Professor of Education. Frequently, Jim returned to his "classroom roots" volunteering as an elementary school teacher in 1991, 1997 and 2006. Too, Jim taught middle school students one day a week between 1998-2008 and currently teaches gifted 9th graders part-time at Scholars' Academy in Conway, South Carolina. The author of 275 articles and 20 books, Jim's work has been translated into multiple languages and featured in professional journals and in popular media, including The New York Times, People Magazine, and on Oprah! Jim's newest book, Doing poorly on purpose: Underachievement in the quest for dignity, will be published in 2018. A frequent presenter throughout the U.S., Jim has also addressed audiences in England, Greece, China, Oman, Turkey, United Arab Emirates, Saudi Arabia. New Zealand (and now, Thailand).
Topic: Special Needs
Title: Meeting the intellectual and emotional needs of gifted children
In this session, Dr. Delisle reviews the unique intellectual, social and emotional needs of gifted children and teens and offers strategies for dealing with these issues in a school setting. Topics will include understanding giftedness, setting appropriate expectations, empowering students to advocate for an appropriate education and other relevant topics.

Marilyn George
Biography:
Marilyn George has been the vice president of the Accrediting Commission for Schools, Western Association of Schools and Colleges (ACS WASC), since 1987. In addition to her knowledge of international accreditation and ongoing school improvement her areas of expertise are school curriculum/instruction/assessment and professional development. As the vice president, her responsibilities for the entire ACS WASC region include: working with international, national and state governments, ACS WASC partner associations, school districts and individual schools in developing and refinement of overall policies, understandings, and detailed procedures; creating/ refining accreditation criteria, materials and processes; developing/ conducting/ facilitating training for all visiting committees/school leaders; training of trainers; supervising and organizing visiting committees and improving related office operations; advising and working with educators and professional associations; and assisting the president with numerous tasks/issues. Prior to joining ACS WASC, she has taught at the K-12 and college levels and has been a professional development specialist, a trainer, a consultant, and a high school district administrator of professional development and state/federal programs. She has given presentations and written articles and other publications in the areas of staff development, mentoring, and accreditation. Her degrees are from Westminster College (B.S.), University of Wisconsin, Madison (M.S.), and University of California Los Angeles, UCLA, (Ed.D.).
Topic: Accreditation
Title: Serving as a Visiting Committee Member and Conducting a Self-Study
This session will (1) prepare educators to serve on ACS WASC visiting committees, emphasizing the role and responsibilities of an ACS WASC visiting committee member, and (2) examine the essentials of the Focus on Learning process and its adaptability from a self-study perspective. Who should attend? - Representatives from schools conducting future Focus on Learning self-studies. - All interested teachers and other educators who have never served on an accreditation team or have served previously but are eager to learn more about serving on a Focus on Learning team. - All teachers and other educators who are serving on Focus on Learning teams, if they have not participated in a recent training. Why attend? The session will provide an opportunity for educators... - To strengthen their understanding of Focus on Learning process from a school self-study and visiting committee perspective. - To understand how Focus on Learning can be integrated with other school initiatives such as strategic planning - To examine strategies inherent in Focus on Learning that support the school's assessment of student learning in relation to school-wide learner outcomes and curricular objectives/standards. - To become eligible to serve on visiting committees.

Ann Helmus
Biography:
NESCA Founder/Director Ann Helmus, Ph.D. is a licensed clinical neuropsychologist who has been practicing for almost 20 years. In 1996, she jointly founded the Children's Evaluation Center (CEC) in Newton, Massachusetts, serving as co-director there for almost ten years. During that time, CEC emerged as a leading regional center for the diagnosis and remediation of both learning disabilities and Autism Spectrum Disorders.
In September of 2007, Dr. Helmus established NESCA (Neuropsychology & Education Services for Children & Adolescents), a client and family-centered group of seasoned neuropsychologists and allied staff, many of whom she trained, striving to create and refine innovative clinical protocols and dedicated to setting new standards of care in the field.
She is an active participant in the Trauma and Learning Policy Initiative, a collaborative effort between Massachusetts Advocates for Children and Harvard Law Schoo's Education Law Clinic, a project involving a multi-disciplinary group of professionals working together to better define and meet the educational needs of children who have been traumatized.
A clinician and speaker in demand internationally, Dr. Helmus frequently conducts evaluations abroad, particularly in areas where diagnostic and treatment services would otherwise be unavailable. Under her direction, NESCA has welcomed clients from more than 20 nations.
She received her undergraduate degree in Neural Science from Brown University and earned her doctorate at Boston University School of Medicine. Her postdoctoral fellowship in pediatric neuropsychology was completed at Children's Hospital in Boston, where she remained on staff for seven years. Concurrently, she served as neuropsychologist to the Pediatric Brain Tumor Clinic at Dana-Farber Cancer Institute in Boston.
Dr. Helmus specializes in the evaluation of children with learning disabilities, attention and executive function deficits and primary neurological disorders. In addition to assessing children, she also provides consultation and training to both public and private school systems. She frequently makes presentations to groups of parents, particularly on the topics of non-verbal learning disability and executive functioning.
She is the mother of two young adults in college.
Topic: Neuropsychology
Title: The Art of the Holistic Child Assessment
Moving beyond test scores using the assessment process to generate a profile of the whole child and seeing how to leverage strengths to address areas of weakness. Ideas for maximizing the evaluation process for teachers, counselors and parents.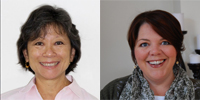 Ochan Powell and Kristen Pelletier
Biography:
Dr. Ochan Kusuma-Powell is the Director of Education Across Frontiers, an organization dedicated to the professional learning of international school educators. She also serves on the Design Team for The Next Frontier Inclusion - a non-profit organization devoted to supporting international schools in becoming more inclusive of students with special learning needs. Ochan has presented numerous workshops and courses in the areas of differentiation, assessment, teacher emotional intelligence, coaching and collaboration and is an Associate Trainer for Cognitive CoachingSM and Adaptive Schools. Together with her husband Bill, Ochan co-authored Count Me In! Developing Inclusive International Schools (2000), Making the Difference: Differentiation in International Schools (2008), Becoming an Emotionally Intelligent Teacher (2010), How to Teach Now: Five Keys to Personalized Learning in the Global Classroom (2012), The OIQ Factor: Raising the Organizational Intelligence of your school (2013) and Teacher Self-Supervision: Why teacher evaluation is a failed system and what we can do about it (2015).
Kristen worked at the International School of Brussels for 19 years, first as an intensive learning support teacher and for the last 11 years as the Director of Student Support Services developing a model inclusive school. She is a founding Director and Design Team Member of the Next Frontier Inclusion (NFI) a non-profit open source collaborative designed to share best practice and support schools to become authentically inclusive. She is a trainer for the Teacher Training Center, and Education Across Frontiers. Kristen is in her first year of full-time independent consultancy work with the goal of supporting international schools on their journey toward exemplary inclusive cultures and practices. She offers a range of professional development in collaborative teaching, classroom based interventions, services delivery, and conducts learning support audits and strategic planning. Redefining Access - Creating Opportunities for Inclusion to Thrive! kpelletier@redefiningaccess.org
Topic: Co-Teaching for Inclusion
Title: A Day in the Life of a Co-Teaching Team
What aspects of collaborative teaching models do teaching partners need to consider? In this interactive pre-conference, we will look at a typical teaching cycle that includes: co-planning; co-instructing; co-assessing; and co-reflecting, exploring them using many easily transferrable teaching strategies. Suitable for all teachers K - 12, whether you're already co-teaching, or just considering it!

Stephen Shore
Biography:
TBA
Topic: Special Needs
Title: TBA
TBA

Bonnie Singer
Biography:
Bonnie Singer, Ph.D. is the founder and CEO of Architects For Learning, where she provides teacher professional development and school consultation internationally and directs a staff in the Boston area that provides academic intervention, assessment, and consultation services for K-12 and college-age students. With expertise in language, literacy, and learning, she is passionate about working with students who struggle academically. In partnership with Dr. Anthony Bashir, she developed EmPOWER™, a method for teaching expository writing, Brain Frames®, graphic scaffolds for language, literacy, teaching, and learning, as well as several assessment tools for writing. Her primary research and numerous publications focus on the relationship between spoken and written language, cognition, executive functions, spatial processing, and self-regulated learning. Dr. Singer currently holds an adjunct teaching position in graduate and professional studies at Endicott College. Formerly, she was an instructor in the Communication Sciences and Disorders department at Emerson College.
Topic: Literacy / Reading, Special Needs (SENIA), Modern Languages, Counselors, ESL
Title: Brain Frames: Graphic tools for Language, Literacy, Teaching, and Learning
This presentation will introduce a set of visual strategies called Brain Frames®, which can be used to support listening, speaking, reading, writing, organization, learning, and teaching in any grade level or content area. Participants will leave with powerful and practical strategies they can put to use immediately in any instructional setting.

Dali Tan
Biography:
Dr. Dali Tan is Associate Professor of Chinese at the Northern Virginia Community College. She has extensive experience teaching Chinese from 5th grade to college seniors as well as heritage Chinese schools. She was a board member of NECTFL and the President of CLASS. She was the Director for NOVA STARTALK eTower Infrastructure Grant Project which has produced several Open Educational Resources modules based on a famous Chinese painting called "Along the River During the Qingming Festival" --
etower.nvcc.edu
. She was also the co-project director for a five year research project entitled "Language Socialization in Chinese Study Abroad Homestay" funded by the Department of Education. Dr. Tan is a Pre-AP World Languages and AP Chinese consultant for the College Board and served on the College Board SAT II Chinese Committee for five years and the AP Chinese Development Committees for two years. She has conducted many AP Chinese one-day workshops and AP summer institutes for the College Board since 2006 both in the US and in China. She was the 2003 recipient of the Teacher Recognition Award issued by U.S. Department of Education. Dr. Tan's research articles have been published in China, Canada, the Great Britain and the United States. Her publications include "Study Abroad in China: Transformation of Students' Perspectives on the World and Themselves" and "Criteria to Guide Textbook Decisions: Reflections from a Classroom Teacher and Teacher Trainer". She also co-authored "Exploring the potential of high school homestays as a context for local engagement and negotiation of difference--Americans in China"., "Contextualized Language Practices as Sites for Learning: Mealtime Talk in Short-Term Chinese Homestays", "Discussing Emily Dickinson into Chinese: Lessons from the Cooperative Translation Project", "The Short-Term Homestay as a Context for Language Learning: Three Case Studies of High School Students and Host Families", "The Power of Pattern Stories for Chinese Literacy." and "Building Global Communities: Working Together toward Intercultural Competence.".
Topic: AP Chinese Language and Culture
Title: AP Chinese Language and Culture Two-Day Workshop
In this two day workshop, Dr. Dali Tan will focus on the AP Chinese Language and Culture course and exam in relation to promoting students' language proficiency, intercultural competence as well as 21st Century Skills. Dr. Tan and participants will share best practices and classroom strategies in improving student performance in all three modes of communications (interpersonal, interpretive and presentational) and will carefully examine some effective instructional resources.

Phyllis Wright
Biography:
Phyllis Wright teaches both AP Language and AP Literature at Alma d'arte Charter High School in Las Cruces, NM. She has a Master's degree in English, with post-graduate work in Greece and England. She has been honored as the 1997 New Mexico State Teacher of the Year, a 1999 Golden Apple Fellow, and Who's Who Among America's Teachers. As a 2002 United States—NIS—Excellence in Teaching Award recipient, she participated in a cultural exchange as a guest English teacher in Rotov-na-Donu, Russia. Phyllis has been an active College Board consultant since 1986 and has worked with teachers all over the world, from China to the UAE. Trained as a College Board national leader and consultant/teacher mentor, she has served as a Reader and Table Leader for the AP Language exam and as a member of AP English Test Development Committee.
Topic: AP English Language and Literature (combined)
Title: AP English Language and Literature (combined)
This AP workshop, led by an experienced member of the AP community and/or a College Board-endorsed consultant, provide participants with some of the best tools and techniques for helping students acquire the skills needed to excel in the AP classroom, special emphasis on the development of critical-thinking skills. Participants review AP teacher materials that include course outlines; content-related handouts; and student samples, scoring guidelines, and commentary for recently released AP Exam free-response questions; engage in discussions about appropriate classroom materials; learn specific techniques and content-specific strategies that can be incorporated into the AP classroom to help students prepare to be successful in AP course work; review data related to student performance on AP Exams and the scoring process; and become acquainted with electronic media used to support AP teachers (e.g., AP Central, electronic discussion groups).
Other Preconferences preceding the main conference

1. ADVANCE PLACEMENT (AP) PRE-CONFERENCE WORKSHOP
March 27 and 28, 2018. The scheduled sessions are:
AP Chinese Language and Culture and AP English Language and Literature (combined)
Please register directly with The College Board for these. For more information and registration materials for the AP Workshops, please visit:
http://collegeboard.org/intlpd
AP Registration link: https://eventreg.collegeboard.org/d/m5q6p1/1Q

If you have additional questions, please contact:
Vereliz Santana, International Support, the College Board
Phone: +1 646.767.8952
Email: pd_international@collegeboard.org


2. Accrediting Commission for Schools, WASC preconference
Date: March 28 (Wednesday)
Contact: Marilyn George <mgeorge306@aol.com>
Fax: 1-650-696-1867

3. USF/WSU — International School Leadership Program**
Date: March 28 - April 1 (Wednesday to Saturday)
Contact: Kelly LaGrutta <lagrutta@wsu.edu>
Tel: 509-335-6393
** (NOTE: Preconference participants must also be registered as conference delegates.)
For more information
If you have any questions, please contact the EARCOS office or email Elaine Repatacodo, ETC Coordinator at lrepatacodo@earcos.org
Phone: +63 (02) 779-5147
Fax: +63 (49) 511-4694
Mobile: +63 928-5074876