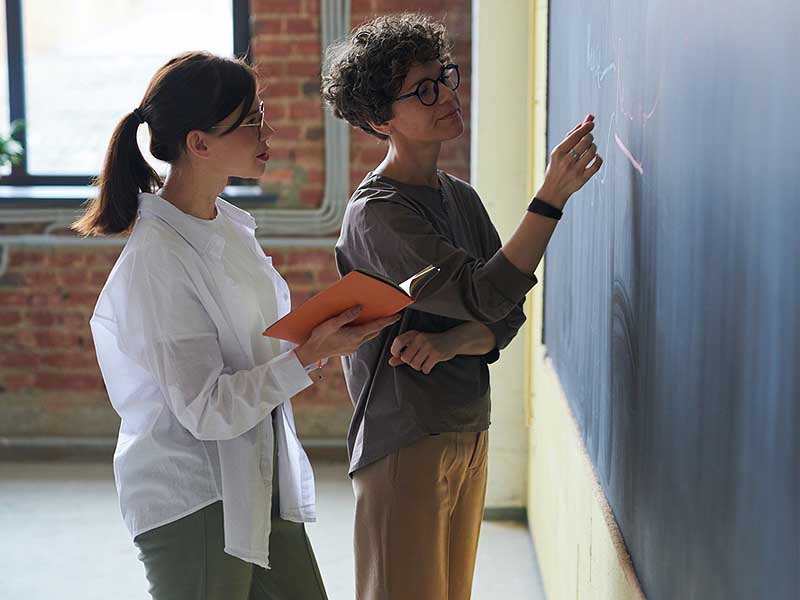 Mont' Kiara International School (M'KIS)
Submitted by: Nick Cross and Alma Aliaj, PD Working Group Chair and Head of Communications
Appeared on the ET Journal Winter Issue 2022
For educators, lifelong learning and development are key to growth and to improving their craft. Just as students must continually strive to learn, grow, and practice new skills, so must teachers. Indeed, the IB Philosophy, which M'KIS celebrates, looks to encourage lifelong learning in all its stakeholders - not just students!
With the pandemic still affecting travel, in-person gatherings and training opportunities, teachers across the world have had to get creative with how they approach their own learning and development. To answer this dilemma, the M'KIS Professional Development (PD) Working Group was born. Made up of 12 faculty members, the group's main aim is to build on the teaching expertise within our school and to encourage collaboration that strengthens the M'KIS teaching community. Additionally, the aim is to employ a democratic approach to PD, where staff let the PD Working Group know exactly what they want their PD on.
In order to achieve these aims, the PD Working Group built on a system of teacher-led workshops that were already in place in the High School from the previous academic year. Building on this, before the summer break, the PD Working Group conducted a survey and found that overwhelmingly, staff wanted more training in technology and digital tools. Given the pandemic and the move to online learning, the group agreed that exposing staff to the wealth of Google Suite tools would be an ideal place to start.
Arriving for the start of the school year in August, the first task was to outline the skills staff were most interested in developing, and finding the right teachers to step in as trainers to provide the workshops. Based on staff feedback, the PD Working Group decided to offer Google Suite training school-wide for teachers, Admin Support Staff as well as Elementary School Teaching Assistants. All in all, it would mean providing PD to approximately 100 staff members at M'KIS, which is no easy feat. Most importantly, however, was the PD Working Group's determination that the IB Philosophy was championed. Treating all staff in the M'KIS Community as lifelong learners is hugely important as is the importance of intercultural awareness - that the community can learn from all our stakeholders. As such, we not only provide workshops for all our stakeholders, but we also ensure that those leading workshops are representative of our international community.
With the feedback from staff on the Google PD provision and despite a busy season of preparing to welcome students back to another year of schooling online, many teachers expressed a willingness to host workshops and take a more active role in providing training to their colleagues. Given how busy the M'KIS staff were at this time, the desire of faculty to work with and upskill their colleagues was positive and inspiring. More promising was that both veteran and new staff were eager to contribute, as well as staff from elementary, middle and high school. With 10 workshop hosts, the challenge was then to get 100 staff members into the right workshops. To foster a truly democratic approach, participants were polled again to gauge their interest in the various training options. Staff were excited to provide their feedback and became even more engaged in the process as the plan for a teacher-led process took shape. Indeed, while organising the programme has been stressful, getting to work with colleagues who are so positive in sharing their expertise truly does allow for a collaborative teaching community to blossom.
Led by Nick Cross and supported by the MSHS Principal, Alan Shanks, the success of these teacher-led workshops rested on colleagues volunteering to give up their time to support their peers' up-skill. To cement the transition to schoolwide PD, a regular system, where PD would be given on a monthly basis allowed the PD Working group to accommodate staff desires to have a continual programme of workshops that allowed them to not only build on previous learning but also give them the opportunity to try new strategies out in class. Central to both achieving these aims and providing schoolwide PD is, as before, the collaborative and positive attitude that staff has, whereby they want to support their colleagues and share what knowledge and skills they have.
With the first of workshops now behind them, many staff members have commented on just how helpful the training has been. Not only do staff encourage the PD Working Group to continue developing the PD programme, but they also give advice on how to improve the provision. In fact, the feedback obtained from colleagues on each subsequent iteration of the workshop has supported workshop hosts in fine-tuning the workshop content and style thus creating a strong alignment with the needs of the target audience. Furthermore, educators, using their new skills have been able to make immediate changes to their teaching practice.
Equally important, the positive energy created from attending this kind of teacher-driven PD is a boon to our staff and learning community-staff now actively volunteer to host workshops on the Google Suite that they are still learning about themselves. This positivity and attitude not only promotes teamwork and collaboration, but it also builds trust among colleagues, and strengthens teacher leadership and empowerment. As continuous learning, another pillar of the IB philosophy occurs, teachers become more confident in their skills and more reflective in their teaching practice, all of which directly contribute to student learning and well-being.
As the M'KIS Professional Development Working Group looks to the future and develops additional workshops for their colleagues, we are excited to see how this initiative continues to support teacher growth and contribute to a spirit of whole-school development. Indeed, with the Google Suite workshops coming to a close in December, the next set of workshops from January to June 2022 will be on the IB Philosophy and Pedagogy. It will certainly be rewarding not only for the PD Working Group organising them, but also the staff who will be participating. More importantly, the learners will be the ultimate beneficiaries of the drive for teacher-led PD.
About the Author
Nick Cross and Alma Aliaj are Pprofessional Development(PD) Working Group Chair and Head of Communications at Mont'Kiara International School(M'KIS), they can be contacted at n.cross@mkis.edu.my and a.aliaj@mkis.edu.my