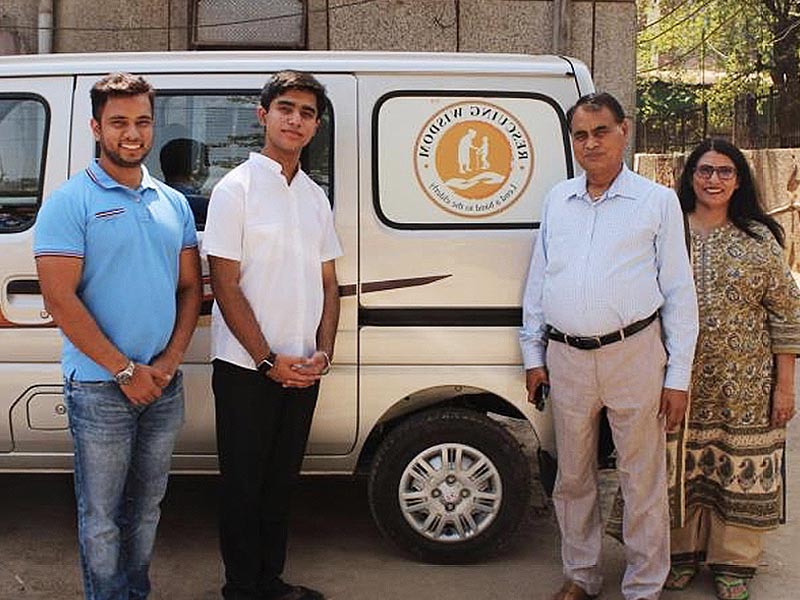 Rescuing Wisdom
Submitted by: Vivhan Rekhi, The British School of New Delhi
Appeared on the ET Journal Fall Issue 2020
When the young and the old interact, there is tremendous potential for growth, insight and long-lasting bonds. Yet opportunities for these types of interactions are often limited. Meet Vivhan Rekhi, a student of The British School, New Delhi, who is working to create such opportunities. At the age of 15, Vivhan founded Rescuing Wisdom, a social service initiative that advocates for elderly responsibility.
To date, Rescuing Wisdom has raised over INR 1.5 million through crowdfunding and via sponsors to benefit a range of old age homes pan India. Vivhan's first initiative was to purchase a rescue vehicle for Guru Vishram Vridh Ashram (GVVA), an old age home in Delhi. The fundraiser saw immense traction with him reaching 250% of his goal. Therefore, Vivhan was able to buy a fully equipped ambulance for GVVA, as well as donate various medical supplies and equipment and air conditioners to other old age homes to combat the blistering heat of the city. In order to understand the status of old age homes in India and their requirements, Vivhan carried out surveys to build Rescuing Wisdom's database to plan future campaigns, based on the findings. He also authored a book of short stories, titled "The Knife's Edge", and used the proceeds of this book to continue to fund Rescuing Wisdom's initiatives, which is on the shelves of various large bookstores including Barnes & Nobles.
Rescuing Wisdom, at its heart, is a collaborative enterprise. To expand its reach, Vivhan has partnered with Feed the Need to organise a Satsang and regular langar at old age homes; Venu Eye Institute and Research Center to sponsor eye camps, cataract surgeries, and glasses for the elderly; the National Center on Elder Abuse (USA), to spread the message about saying No to Elder Abuse; Saregama India Pvt Ltd to supply Saregama Carvaan's to old age homes, to aid them with the recreational activities that the residents so dearly crave; For. India 2020 to sell eco-friendly recyclable masks during COVID 19 with all the proceeds going back to fund the activities of the organisation and the Government of India via Tihar Jail, the largest prison in Southeast Asia, to help the elderly inmates find a home after their release.
Some initiatives by Rescuing Wisdom include their "Adopt an Elderly" sponsorship programme, through which people can sponsor an elderly person's care for different periods based on the package selected, and a "Buddy Programme", in which school-aged children volunteer at the old age homes, reinforcing the idea of respecting one's elders. Rescuing Wisdom's product line, "Wicks of Life", retails candles and other crafts made by the residents and gives back the majority of the profit to the old age home. Another aspect of Rescuing Wisdom's social entrepreneurship is their new scheme, in light of COVID 19, wherein volunteers buy essentials and pay utility bills on behalf of elderly residents, to reduce the risk of senior citizens contracting the virus. In response to COVID 19, Rescuing Wisdom also helped increase the capacity of old age homes, so that they can take in more elderly residents, as well as, pay for the added cost of sanitisation and specialised medical equipment such as PPE Kits.
Recently, Rescuing Wisdom has launched a sustainable urban planning project, known as "The Urban Village Project". Here, Vivhan is taking insight from urban planning to help old age homes plan the layout for new residential complexes in which the residents can live comfortably while abiding by social distancing measures. The urban village plans include ample outdoor space, an organic garden, and socially distanced living quarters. Vivhan, through Rescuing Wisdom, is also researching cost-efficient and sustainable building materials, and forms of alternative energy such as solar and biogas for the new complexes in the old age homes. He has used his insights from his mentorship with a professor from Cambridge University and an internship with a think tank in Germany, to facilitate this project further. His first Urban Village Project site is in SHEOWS old age home in Garhmukteshwar, India. In light of COVID 19, the organisation faced increasing reluctance from corporations to help fund this project. As a result, Vivhan withdrew from Cornell University's Pre College and utilised the refunded fees to further this project.
For his work, Vivhan has been awarded the Diana Roll of Honour Award, Duke of Edinburgh IAYP Silver Level (currently on track to receive Gold), and Pramerica Spirit of Community Award. He has also won The EARCOS Global Citizenship Award and Grant. He has been nominated for The Ashoka Changemakers Award (awaiting decision) and Pradhan Mantri Rashtriya Bal Puraskar (awaiting decision), India's highest civilian honourfor people under the age of 18. Vivhan has also been named one of the Top 10 Changemakers of India by The Better India, as well as been featured numerous times in media outlets including NewsX, FICCI YFLO, The Patriot, The CSR Journal, and The Dailyhunt.
In addition to expanding Rescuing Wisdom's ongoing projects, Vivhan has various plans in the pipeline. Being a finance and business enthusiast, he is leveraging his experience with finance internships and summer programs to develop a training course for employees of banks and large financial firms, to aid them in identifying Financial Elder Abuse. Vivhan's work and continued commitment to the cause show that when the young advocate for the old, incredible feats truly can be achieved.