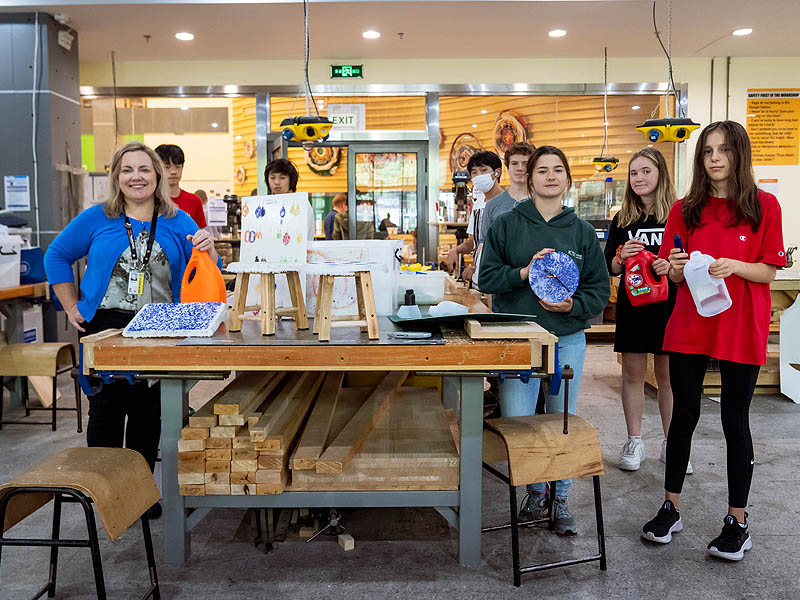 NIS Students Protect the Environment with Precious Plastics
Submitted by: Sonya terBorg, Design Teacher and Learning Strategist
Appeared on the ET Journal Spring Issue 2021
The plastic problem is part of our everyday lives. Which is why, when faced with the challenge of "How might we reduce our impact on the planet?", students at Nanjing International School sought out an opportunity to make a significant difference in their community and joined the Precious Plastic universe.
Precious Plastic is a combination of people, machines, platforms, and knowledge to create an alternative global recycling system. The Precious Plastic approach counts on people to bring about the necessary changes to fix the plastic mess. Ultimately, Precious Plastic exists to reduce plastic waste. Sometimes this is through boosting recycling efforts or by adopting zero waste lifestyles by turning trash into useful products.
Dissatisfied by the level of impact of their design solutions in Grade 9, a small group of Grade 10 MYP Design students spent the year researching, questioning, investigating, and ultimately establishing Nanjing's first Precious Plastic workspace. The team has the capacity to collect, sort, clean, shred, and reform used plastic into items such as clocks, pendants, and earrings. Expertise and advice gathered from the Precious Plastic universe – an online community of people committed to curbing the plastic problem - have been instrumental in moving the NIS Precious Plastic team, "The Lion's Steam" forward.
The group is entering its second year with participants from Grades 6-10 as part of the Service As Action program. The group is hoping to reconnect with the community and establish NIS as a plastic collection point. Focusing on what is called HDPE or 'number 2' plastic, the aim is for recycling plastic to become part of 'what we do' at NIS and in our community. Collection points have been established in the Centre Foyer at school for this purpose and we are encouraging the NIS community to drop off clean HDPE 'number 2' plastic for NIS students to repurpose.
NIS has a culture where students lead the way in creatively finding problems and then solving the real-life challenges that face our planet. Join our attempt to be part of the solution.
About the Author
Sonya terBorg is the Design Teacher and Learning Strategist at Nanjing International School. She can be contacted at sonya.terborg@gmail.com